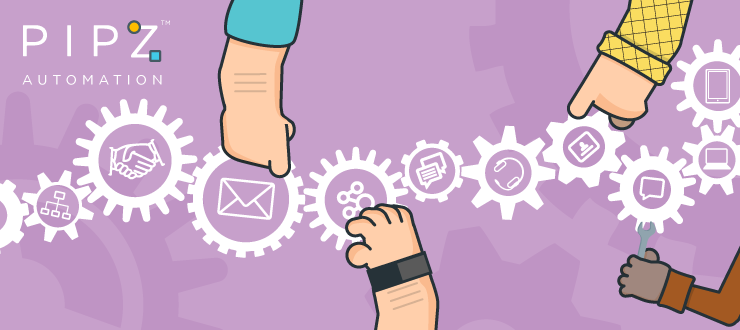 On this blog post, you'll learn:
Why you need a Customer Success Software;
What are the indispensable solutions from a CSM Software;
How to all of these solutions work on Pipz.
Customer Success Management, or CSM, is one of the main strategies for long-term company growth. Its focus is customer relationship retention and optimization, but the job is to make your client successful (duh) when using your product. That's only possible when you prepare, and help him to extract all the benefits your SaaS product has to offer.
That being said, customer management, to be effective, needs to be proactive, and not reactive, like we said on our last blog post. It starts with acquisition and many think it should stop after onboarding, or even conversion, but that's a huge mistake that could cost your company's future.
And who does the customer success management? The Customer Success Association has the perfect explanation for this:
Customer Success Management is an integration of functions and activities of Marketing, Sales, Professional Services, Training and Support into a new profession to meet the needs of recurring revenue model companies.

There are three necessary building blocks for this emerging profession: an in-depth knowledge of the customers, effective knowledge of the product being sold, and extensive domain expertise.
Your entire company and teams need to be aligned and aiming for the same goal, which is client success. But that's only really possible with the support of a customer success management software.
Let's recap a bit…
We have already a few contents on this blog about customer success and automation. Check it out a few below if you've missed them.
And we have also listed the benefits that a good customer success management can bring to a company, such as low churn rates, retention, loyalty, strong and growing MRR, ROI improvement, etc. However, and we can't stress this enough, this is only possible with a great customer success software. An why is that?
A great CSM software should not only have CS resources, since the client has started his journey long before the CS team talks to him. So, your CSM software needs to be inside a Customer Experience Management Software, and used by all teams, especially marketing and sales. But what should your customer success software do?
On this blog post, I'll tell you what are the main seven solutions your team needs from a customer success software to build a successful strategy, and company. Of course we'll talk about our product, Pipz, but even if you are not looking to buy from us, you should still take our tips into consideration. ☺
Indispensable solutions from a Customer Success Management Software
Let's go straight to the point, shall we? Here is an overview of what I'll talk about and below I'll explain why it is truly indispensable.
Integration with CRM;
Proactive messaging and notifications;
Automated actions during onboarding;
Events tracking;
Smart ticket management;
Knowledge base;
Integrated workflows for implementation, follow-up and monitoring.
Integration with CRM
Customer relationship management is an important step of the great customer experience. Typically, a CRM software will facilitate the communication between sales and client, and the CSM will facilitate the communication between CS and client. Are you following?
But since optimization is the word that rules business, you want a way to pass the baton easily between the two teams. When you integrate CRM and CSM, you'll maintain a history of contacts and behavior, nutrition preferences and much more.
This will make it easier for your team to develop a relationship marketing strategy and keep the client for a long time.
How does it work on Pipz: You can create kanban boards with automated actions and integrated with automation flows and email marketing. When a lead reaches a milestone designated by you, a card is created automatically on the CRM and the sales team is instantly aware they have a hot lead on their hands. And when the deal is closed, the CSM receives the card automatically, and the process can continue.
Proactive messaging and notifications
On our last post, we talked about the importance of being proactive instead of reactive, and how this can bring benefits to the customer success department, and the entire company, actually. That's possible thanks do live chat:an in-app and in-site communication feature that works as a chat room.
This is an important solution since it shows your client that you, and your CS team, are always available to talk, help and answer any questions. It's a great way of cultivating a relationship.
How does it work on Pipz: Our live chat feature can be installed in any website or app and has the option to send the contact to any available team member, instead of a fixed list of team members to follow. Great, right?
Automated actions during onboarding
The onboarding process is one of the most critical ones, and will possibly decide if a client will stay on with the company or will churn. That's why you want to give assistance, show what they have to do and allow them to enjoy your product to the fullest. But you might not have the manpower to do that manually, and honestly, that's not even the most efficient way to do it.
Automated actions are the solution for this. You can setup an automated flow triggered by the stage the person is and send specific emails with instructions. Furthermore, you can even track those that stopped along the process and send rescue messages to bring them back.
And don't forget the follow up step! Automate that too and you'll have a winner strategy to maintain clients.
How does it work on Pipz: Our drag-and-drop automation is the perfect way to set up your onboarding and automation, since is gives you flexibility and allows you to condition different paths depending on different behaviors. Learn more on our onboarding page.
Events and activities tracking
Did you always wandered how your users behave inside your app? Or how your website visitors consume your content, what pages are more effective and so on? Well, an event tracking feature, part of your customer success software, allows you to do that.
By tracking events and activities, you'll be able to have a better understanding of your client, outline a more personal and appropriate strategy and offer a product that have the right fit.
Additionally, you can identify inactive users and create campaigns to bring them back.
How does it work on Pipz: When you install the tracker on your pages, they will generate and send events and activities automatically to your dashboard. That will create a Customer Engagement Index (CEI), a database with everything there is to know about your users. Now, thanks to our BI, you'll be able to analyze everything, create charts and detailed reports.
Smart ticket management
When a person contacts your company they expect, and must receive, an answer. However, there might be bottlenecks disturbing your process, and some things might be falling through the cracks. A smart ticket management solution will be able to administer chat lines and keep a conversation history.
How does it work on Pipz: Exactly like that, no complication, no trouble. Just setup your team's profiles and start talking to your users!
Knowledge base
Does your CS team reports that clients keep asking the same questions? Are there routine doubts you wish you could avoid? Well, a knowledge base is capable of that. It's a database with topics where you can organize all the information you want your client to have. It could be a "problems index" or a "how-to" manual. There are many options and you're the boss, always thinking of what's best for the clients, of course.
How does it work on Pipz: Create pages, topics and articles easily with our knowledge base feature. It's easy, flexible, allows you to personalize the identity of the page and even create different knowledge bases for different countries.
And, as an added bonus, it also editable by markdown, making it easy to copy and format a new base, for example.
Integrated workflows for implementation, follow-up and monitoring
These are all attributions of the CS team, and to have all of these workflows aligned and integrated is key to success. You can do that by using a Kanban Board, creating a process and follow every step along the way.
It results in less errors, less overlapping of activities, and eventually rework, creating a more efficient team, and happier customers.
How does it work on Pipz: It's very easy! Just create columns and outline your process, invite the people you want in your board and begin!
With one customer success management software, and ideally one for the entire company, your teams can work better together. But remember to search for these solutions, or you'll come out losing.
Why don't you give Pipz a try? Schedule a demo with our sales team and see for yourself what we can do for you.